Sometimes things can go wrong with the authentication details to Xero. Please follow these steps to fix the connection.
What we are trying to achieve here is a 'fresh' connection to Xero to bypass any cached data from the old connection. It will not affect any of your existing data or invoices previously created.
Please follow steps 1, 2 & 3 below.
Step 1: Disconnect Xero from the XSync admin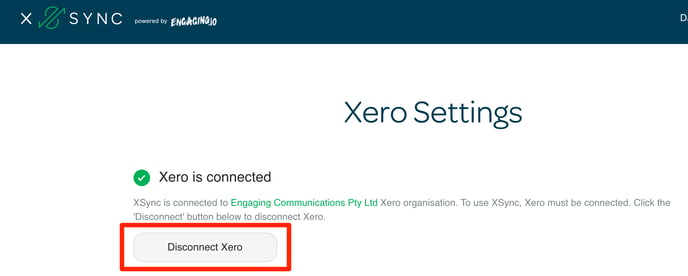 This will remove the access details from our system.
Step 2: Disconnect our APP from Xero.com
Our APP will still show as a connected APP on Xero. We recommend you also remove this here as well to ensure a clean connection when we go through the reconnect process.
Log in to Xero.com
Click your business name from the top left
Click Settings
Click "Connected APPs"
Find "XSync / HubSpot" in the list and click "Disconnect"
Click through the rest of list using the pagination and check for any duplicates. If you find any duplicates please also disconnect these.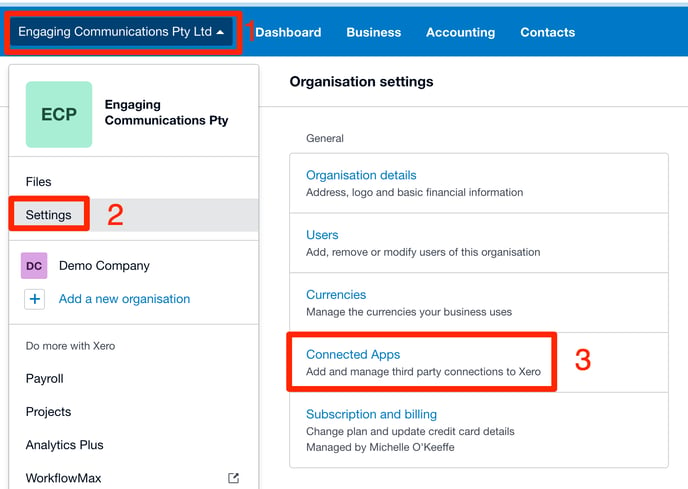 Step 3: Re-connect Xsync To Xero
Now we have fully disconnected Xero we can reconnect Xsync.